This post is also available in:

Español

Deutsch
As every Sunday, our Finca Café – Restaurant is also open on September 13th, 2020 from 1pm to 5.30pm and we are especially looking forward to you this week with the kitchen motto: spoiling Swabian Maultaschen. Swabian Maultaschen in Gran Canaria? – How is that possible? You surely ask yourself –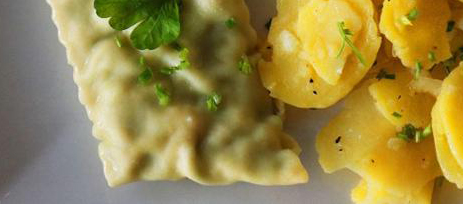 Tobias was born in Swabia and also did his culinary training in beautiful Swabia. So it is easy for him to prepare the filled dumplings. So that it doesn't get boring on the plate, there are not only the classic Maultausch, but also those with mushroom and meat filling, salmon and spinach filling and, last but not least, farmer's ravioli, which are filled with a similar filling to the classic, but with a slightly coarser finish.
Of course, we won't serve you the Maultaschen alone. Maultaschen in broth, as a Swabian pizza (as an omelette with egg) or with a wonderful Swabian potato salad … It is definitely culinary on Sunday and we recommend reserving a table.
For everyone who would like to have Maultaschen at home, we also vacuum fresh! The Maultaschen can be kept for a week in the refrigerator or can be frozen well.
The price per kilo of the Maultaschen varies depending on the type between € 12.50-14.50 and we look forward to pre-ordering them.
Reservation and advance booking at 0034-628177348 (Tel and Whatsapp) or by email to info@bio-grancanaria.com
… further highlights in September is our Finca Café on September 20 and 27, 2020 with the kitchen motto: Oktoberfest! Wonderful southern German specialties are waiting for you! In addition, there is our tapas evening every Friday at 5.30pm throughout September! You can find the event overview here.